What on Earth are the Circular plots on the Sat?
[/quote]
Potatoes
What on Earth are the Circular plots on the Sat?
More precisely: Central Pivot Irrigation. A central pump with an irrigation gantry that rotates around it.
Could be any crop. Cassine obviously knows the area well enough to know the crop.
The green ones are active, the brown ones possibly recently active and the clear ones fallow.
If it is as Cassine says potatoes, then a four-five year fallow period is needed to eliminate infestations of Nematodes. It is usually more economical to move the central pivot than to try another crop on the same pivot. in some areas of the western Cape a single crop is all that is possible and Dept of Agriculture has requested assistance on restoring the old circles to natural Fynbos (which is done properly would cost about 5-10 the value of the potatoes harvested).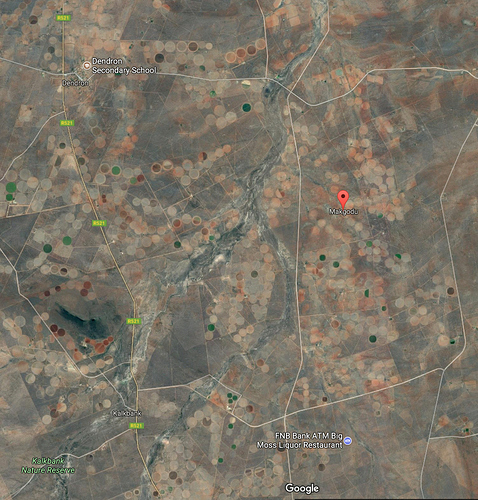 What I find very confusing is that the box to search the map looks like just another iSpot data box, which it is not. This map control should be well away from the data entry and firmly associated with the map as a "Search Map" tool.
the instructions say
"If you know the OS Grid reference, you can enter it below and press 'Go' "
I cannot find the "Go" button anywhere. Very confusing!
I want a scale bar on the map please. Without it the map is useless, especially as one zooms in.
(funny numbering conversion in this forum. Item 1. is 1 but items 2 and 3 are indented as 1 and 2 - cannot fix it)
Gabs is not a problem, try this one https://www.ispotnature.org/communities/southern-africa/view/observation/735971/another-statistic
Your location here, by the way, is in South Africa not Botswana, I can only see the map not a Sat image but I would guess the circles to be centre pivot irrigation schemes, their agriculture is a little more advanced down there ! ! Botswana is rather lacking in infrastructure and the predominance of communal land tenure does not lend itself to easy navigation, personally I'm not much higher than a goat herder, myself, but I do have a perimeter fence.
Yep, that's a goodun - a dead hare somewhere in Africa would always be difficult to pinpoint! Not as hard as an ant
Anyway I do not dispute the utter stupidity and difficulty of it all, only saying that I am working round a lot of 'difficulties' so that my life is more pleasant.
Dr. Rebelo though, will doubtless chastise me for being too accepting and not being aggressive enough!
Thanks, all of you, for explaining the irrigation circles, oh and perhaps opening my mind to geographical things in Southern Africa. Don't let anyone from the UK see this but I think we have a lot to learn from the ZA system of iSpotting
On the map: :click on satellite. Simple.
Old iSpot used to remember what you used and open all the maps in your choice. Now it always reverts to map (versus satellite) view whether you like it or not. Logged as bug, easy to fix (together with the scale bar), but bug outstanding now for over a month …
quite agree, pretty straight forward but doesn't work so well on dejayM's screen freeze unless I'm missing something obvious
@Tuli I have your note in the Other Place. I'll put a note on one of the posts later today
I'm getting the hang of locating points now but 2 things are still annoying
having to type in the location details afresh every time

sometimes I don't know exactly where I was when I depressed the shutter, simply somewhere along the road between A and B (or perhaps not even along a road at all) in which cases I used to simply cross off a few decimal places or I zoomed the map out before clicking the spot
Which is perfectly correct, and ideal.
A million thanks!!!
But alas, a waste of time on this site where the programmers are totally ignorant of how it is supposed to work.