The Collins Guide by Chinery (1986) was a remarkable book. Experts praised his choices, the illustrations were excellent, and it fit into your pocket. For a beginner, it was ideal.
Nowadays, it seems antiquated: no Harlequins, Willow Emeralds: Bombus hypnorum was mentioned, but not recognised as a UK species.
It's stretching things a bit (metaphorically and pocket-wise) to call Brock's book a Field Guide. It's twice as thick, and larger all round. But it's a worthy successor in many respects.
The illustrations are photographic, and of a good size and quality. The introductory section has a glossary, and sections often start with an illustration of the general anatomy. And there's the nowadays-de-rigeur millimetre rule ion the flap. Particularly useful (to me) is the mention of similar species.
I'm not capable of judging the selection, which, with over 10,000 species to whittle down to less than 1,500 must have been a major job in itself, but I suspect that is also partly a matter of opinion. (And prediction - which species will decline, and which will benefit from climate change?)
There are some surprises, too. It's generally considered in iSpot posts that female Panorpa (Scorpion flies) are indistinguishable from photos. Brock provides an illustrated crib (see photo). I'm interested to know what the good entomologists think of it: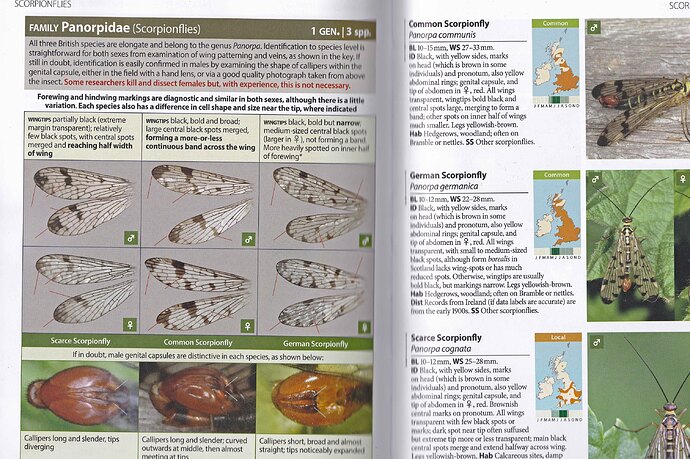 I have only dived in a few times so far, but this looks like becoming a handy companion to my "go-to" web-sites.