Gateway time-out Error code 504 21.43pm 11 June.
Tried 4 times. Nothing wrong with other sites being visited.
Please ignore. It was all fine 2 minites later.
It was off for a couple of minutes. It would be about the right amount of time for a server to reboot after automated crash recovery.
Yes, typical crashes, apparently due to me Filtering!
But also typical reboots so always worth waiting for - I suspect it takes less than 6 minutes
Perhaps @Chris_Valentine could comment
What makes the site crash
How soon does it reinstate
Who does what when an auto-boot fails?
Thanks, Simon and Derek

Here's the massive peak in response times at the time you had a problem getting on the site: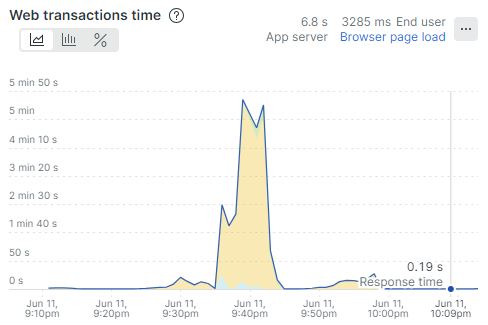 There weren't any code errors around that time. Database selects were taking around 10 times what they normally take. So I have to the exact cause is unknown.
Goodness! Definitely massive!