I don't know if this is of interest, but since I have become more interested in catching and identifying insects, I've been aware that my butterfly net is not robust enough for 'sweeping'.
I cannot afford to spend the sort of amount that commercial sweep nets cost, so I thought I'd try and innovate. There are various Youtube videos showing other people's efforts, often involving coat-hangers or old tennis racquets!
My approach, as a non-seamstress was to use an old piece of gauze that I found in our shed and a lot of staples! I used the frame of the butterfly net and used that net as a template for my new, tougher one. It is essentially two parabola shaped pieces, stapled together down the sides and across the bottom. I then used staples to turn over the top of the 'device', thus creating a loop, through which I passed the frame of my old net. I wouldn't say it's pretty (nor particularly neat) but the only expense was the cost of about 100 staples! I tried it out in the garden, briefly before it went dark and caught one tiny fly and a small spider. But the important thing is that - so far at least - it has proved much tougher than my first net.
In all, it took me about an hour to make it. It would, I'm sure, be much better to use canvas and a sewing machine but I have neither of those.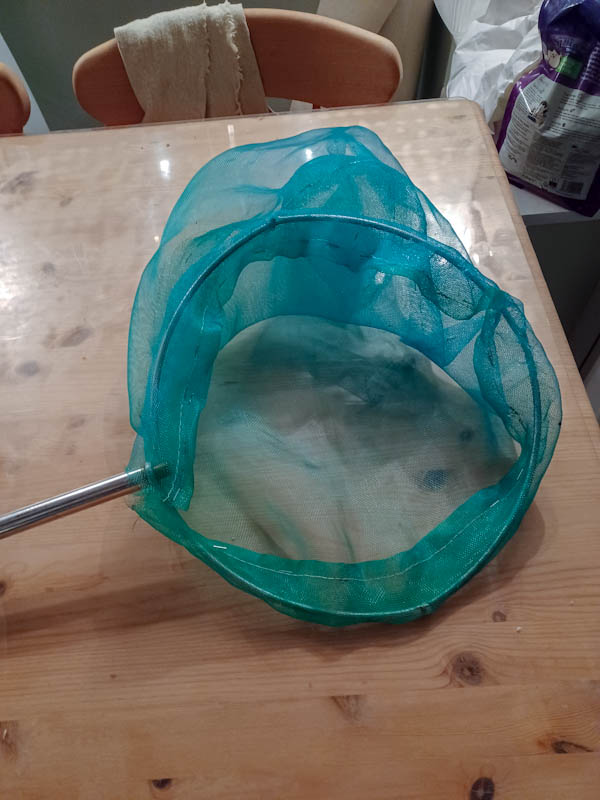 I'd love to know whether other people have tried anything similar.