This is an Invalid Observation, no-one has seen it for nearly ten years
Seen visiting gardens in Hastings in 2009, it has 13 agreements with a locked Likely Banner - no-one can find it except me and Miked. if YOU can find it please help to shift the Banner. THAT'S A CHALLENGE!
PLEASE correct or report Incomplete ID panels - use the Dictionary to best effect, not fight against it.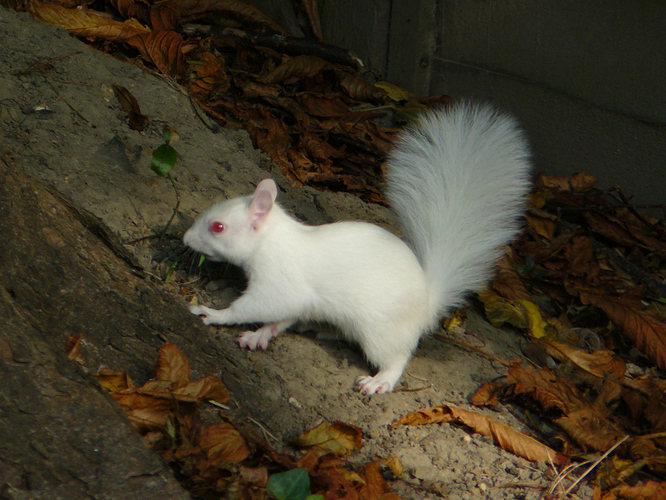 Same place, another time
https://www.dailymail.co.uk/news/article-4375338/Once-lifetime-snaps-rare-albino-squirrel.html
.
This ISSUE
is seen clearly in more than one recent specific Observation
Here is one
https://www.ispotnature.org/communities/uk-and-ireland/view/observation/777407/black-spotted-longhorn-beetle
The real issue is that this ID WAS invalid as far as iSpot is concerned. As long as the Likely Banner stays with an Incomplete ID, NO-one will see the Observation. It goes through the Current Carousel within two days and disappears until someone writes a Project to uncover them - currently that is not possible if it has a misplaced Likely Banner.
,
Because of what Helen has done in that Observation, on behalf of the User, the Curator, and the Site, the Observation (Georgemitchell's first) is now properly seen by a wide audience.
.
This excellent Observation would not be found in a search (for Rhagium mordax), would not be displayed in the Species Browser, nor any Other Observation Carousel. It is Invalid - iSpot is blind to such posts…
.
Like the Albino Squirrel above, that Observation is precious, ALL of the pre 2012 2400, we are currently struggling with, are.Invalid. Helen has done everyone a favour in this modern post, validating the ID.
.
Feeling strongly about Distionary issues or the serious shortcomings of iSpot in general, is not working. We must work with the system as best we can. Fighting against powerful agreers is failing and terribly frustrating for the few who care.
.
When the banner is properly LOCKED to the Scientifically accepted name, then agreements and proper acknowledgement can be given to each User (
BUT beware
of shifting the banner back to the invalid ID).
Once powerful agreements are awarded to incomplete ID Panels, then due process is stalled and sometimes halted for years.
Please correct or report Invalid IDs