Yes, I cannot be certain, unfortunately
New member Ellie has posted 3 posts

It's hard trying to explain to newcomers, the difficulties with the OUTDATED iSpot Dictionaries though we should do that.
I think Ellie will cope.
Brain-Quote of the day "You've already replied 3 times to @HB1 in this particular topic. Have you considered replying to other people in the discussion, too? "
Retreats, feeling hurt…
"Some days you are the pigeon; more often, you're the statue". Nil desperandum.
WATCH for, https://www.ispotnature.org/view/user/67111 who only joined up today and has yet to make a post. But he has added 9 agreements. How nice it would be to click his 'Follow' - but we can't!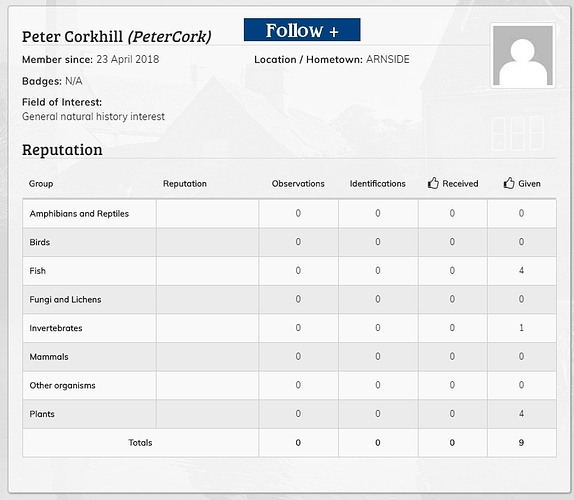 Help needed here, this new post showing several fish is in other organisms and one infrequent user has identified the fish via comments perhaps welcome him

New member's first post of an unusual bee

Patrick11 joined ispot some years ago and some of his posts have had little response. Earlier posts are from Russian. He posted this one last month and has reposted it today. Can you help?

New member, Tanjamh joined during February 2018 and has created almost 300 posts with little response including this one of a green sea turtle

Rachel Nellist's first post,

Hi to those who are welcoming new members. As HB says, Tanja has lots of posts we could look at. I have agreed a green turtle so far.
Today's newbies
Gilded's post - garden plant

Mishmin's post - insect
16/5/18
Chris Brooks has identified Alan's first post

Stephanie's first post - greenfly