Oooh! This looks like enticing bait to slowly, slowly, catchy Rigsby


Thanks for the alert JoC


Mind you, were I to add this to a 'Christmas list', I can hear the groans of the long suffering already "what!? not another obscure book only of interest to about 5 people!"
Surely a book has only to be of interest to the person owning it? Let the other 4 buy their own copies.
Just because a book has less 'reach' doesn't make it less valid. In fact, you could argue the reverse is true'.
I agree without reservation.
Some bargains here in their Damaged book sale.
This one must surely appeal to some ispotters « Micro-Moth Field Tips A Guide to Finding the Early Stages in Lancashire and Cheshire – A Chronological Guide from January to December. 2nd edition« .
Yes, it is interesting. And he has just produced a volume 2. Somewhere, probably NHBS, you could buy both at a discount.
Milne Bay nudibrachs, published March 2022.
Here's the cover of Vol two. I wish Milne Bay were nearer…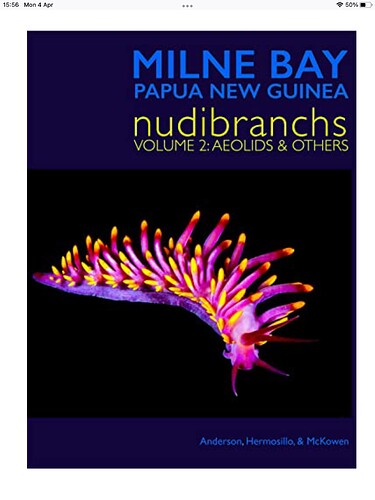 Jim's websites, which I often cite on nudibrach posts, are good and he also sends out occasional email newsletters with news & new finds. His email is on this Scottish site.
.
http://www.nudibranch.org/Scottish%20Nudibranchs/
I'm a little surprised to admit it but I loved reading Leif Bersweden's first book "The Orchid Hunter". I put it off for ages because I had heard about one or two marks of immaturity in references to kindly and knowledgeable others… but it's still a great easy read, and filled with genuine and infectious enthusiasm for botany and botanising. He has another book out this month, "Where the Wild Flowers Grow". I think he's good for botany (and, of course, by extension, all natural history) and we need people like him and Joshua Styles and Mya-Rose Craig if there's to be any hope for the future.
Mya-Rose Craig; the wikipedia entry tells of a remarkable Bristol woman. Mya-Rose Craig - Wikipedia
An honorary doctorate from Bristol uni at the age of 17…
.
Thank you for the alert.
I visited Milne Bay, many years ago - but I was only interested in birds then. An amazing place!!
Wow - she's seen half of the world's bird species and she's only 20! I'm over 70 and I have barely seen 10%. Let's hope that there are still 10,000 species by the time Mya-Rose is 70.