To make room for more missing pictures
More marine by learntodivetoday

Chris - these are all from one user… That would make me suspect a user issue, rather than an iSpot one.
You will remember one UK user who deliberately removed illustrations - I suspect for copyright reasons.
Have you tried contact via the posts. Say adding an ID with a note, rather than a comment might get attention.
perhaps @Tony_Rebelo (who has seen these pix and agreed) could contact [email protected]?
I strongly doubt it. This would be extremely strongly disencouraged in ZA: in fact, we would have banned the user.
This has to be an iSpot issue.
Again issue with some aspects of missing pictures should be in bugfix 3/8/2017 but not sure if it will cover this particular reason for missing pictures.
Does not matter if it does not fix all the pictures. But if some are done, one can more easily define why they are not displaying. At this stage there are probably several issues.
Image missing here (after today's upgrade). If you click on the non-image you get a page not found.
Looking into this particular observation with the user to try and find out why one of the images did not load properly. It would be good to have other examples that don't work after todays bugfix update.
This is because iSpot cannot cope will illegal names. try removing the ? and "…" from the picture title. On the new iSpot the picture title becomes part of the picture name and some characters are not allowed. Bug #457
iSpot is looking for -https://api.ispotnature.org/storage/app/sites/default/files/frontend/24898/201708/5-Wasp%20on%20?..JPG-
https://api.ispotnature.org/storage/app/sites/default/files/frontend/24898/201708/5-Wasp%20on%20?..JPG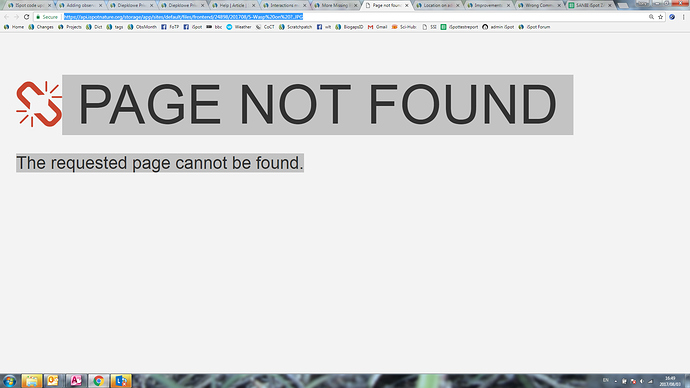 The error message is not acceptable. iSpot should trap the errors far better and display them in a meaningful way. In this case the error should not happen: sloppy programming!
I have had images over 10MB refuse to upload (a week ago) - but assumed that was the file size and reduced them: it worked
The old iSpot explained these limitations.
Why does it not say on the image page that:
max file size is 10Mb
only 50 images are allowed per observation, and that a max of 15 can be uploaded by drag and drop
image titles that default to file names that have illegal characters will result in your pictures not displaying
your exif will be stripped and your pictures supercompressed.
if you try saving your observation before the pictures have finished loading - even though iSpot has given the image tab a completed tick - you will get an Err 500 internal error screen freeze and have to begin again.
etc.
It does appear (from the ones I've checked) that all these missing pictures have been restored
I'm not so certain. If you look in my project this is the result. Those pix are from one user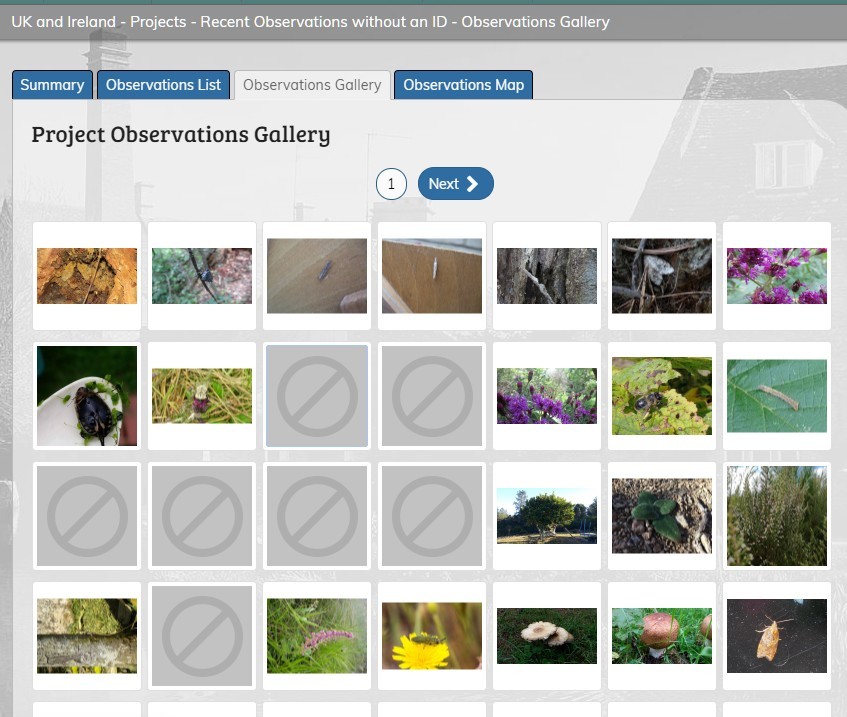 This project is working well - 600 new IDs is less than a month - iSpot is faring well without Changes (but don't tell anyone though!)
I am finding that due to the lack of Changes and fewer posts , I have less to interest me on iSpot and so am amusing myself by looking through peoples' projects, setting up my own projects and identifying things from the dim and distant past. Others may be doing the same.
Incidentally, a lot of the plant observations on 'Recent Observations' were left unidentified simply because there wasn't enough detail/image res to tell what on earth it might be beyond Hypericum, Epilobium, Asteraceae, Apiaceae etc - and this was usually stated by someone in the Comments, but not carried through to an ID, so in part I have been assigning species to family, genus etc. Have reached Page 10 now - not sure how many are left to go!
A good thing to do. Many years ago when iSPot was still quite fresh (and volumes of posts not so high) I went through every invertebrate without a likely ID to see what I could contribute. Would not be that practical to do it now (although with the ability to save search filters that we now have it would be quicker on a per-entry basis than it was before).
then put one on this page dejay, to see if the images show here like all these did; & see if any on this page don't work
I have added an ID for that tree. It is possible that it may not be wrong location since a little bit of the square is over land
I had really left that for Jo as she was obviously tired and needed perking up!
"Too tired now. Not used to hills!"

And yes I see that the wet square is/was the result of not showing precise location.