Cos4Cloud is a European Horizon 2020 project supporting citizen science by developing technological services to address challenges shared by citizen observatories and help them boost the quantity and the quality of observations. The Open University is a project partner and iSpotnature.org is a Cos4Cloud citizen observatory and this role includes integrating and testing relevant services. iSpot is currently trialling two Cos4Cloud image recognition technologies FASTCAT-Cloud and the [email protected]. We need YOUR input: This is a Cos4Cloud iSpot User Group set up facilitate discussions, gather feedback, etc. from the iSpot Community as you use and test these Cos4Cloud services.
iForum LIVE! sessions will be scheduled to facilitate scheduled group discussions which members of the group can join. Users are also invited to add comments and contribute anytime.
Want to know more? You are invited to a iForum LIVE! scheduled chat discussion in the iSpot Forum on Thursday August 4th at 3 – 4 pm BST / 4 – 5 pm CEST.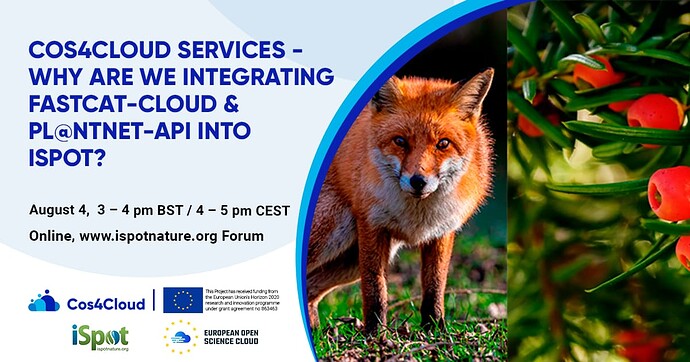 Join in here: iForum LIVE!: Why are we integrating FASTCAT-Cloud and the Plantnet API into iSpot? .