FASTCAT-Cloud is an Artificial Intelligence (AI) service that uploads and analyses nature videos and pictures filtering to relevant images and recordings of wildlife activity to identify species names.
Developed by DynAIkon, it is part of Cos4Cloud a European Horizon 2020 project boosting citizen science technological services to help increase and improve the quantity and quality of observations.
The OU is also a Cos4Cloud partner and iSpotnature.org is one of the Cos4Cloud citizen observatories, focused on biodiversity and the environment, which are integrating and testing these services. In June 2022 we started progressing this part of our work testing the integration of FASTCAT-Cloud into iSpot.
Please note that FASTCAT-Cloud on iSpot makes suggestions only, it does not make identifications and does not gain iSpot reputation see iSpot Profile here. It is currently focused on UK & Ireland mammals only; other species groups will be introduced later.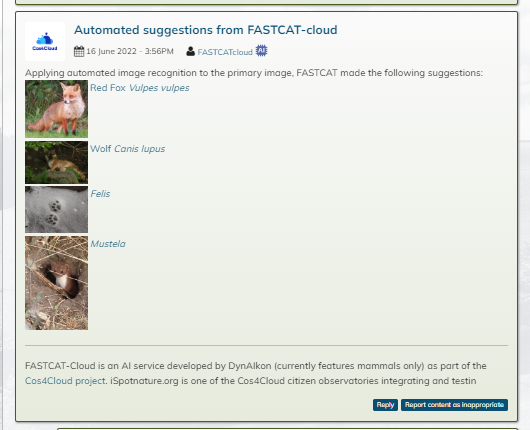 Some users have already seen this new feature and are commenting about it. We are keen to get your feedback and will be facilitating a discussion via the Forums about this soon. This new Forum Topic has been started to keep you updated and engaged about this development.